Win a Trip to The Maldives
Disclosure –  I was compensated for this post and this post contains affiliate links. I will be compensated if you make a purchase after clicking on my links.
Before you empty out that piggy bank you have been filling over the years to take your dream vacation, you might want to try to win your dream vacation and support a good cause at the same time.
My Bucket List has many places I want to visit, and if I could win a trip to The Maldives I could cross that one off my bucket list.  Wondering how you might win a trip for yourself? Let me introduce you to Omaze.
What is Omaze?
Omaze is a website that is focused on a couple things. Making dreams come true and supporting good causes in the process. This is the best of both worlds when it comes to making dreams come true.
Offering things like trips, entertainment and cars up for giveaway gives everyone a chance to enter to win something they want. You can enter for free, or you can donate for more entries. Your donation goes to support the cause they have chosen for that particular giveaway.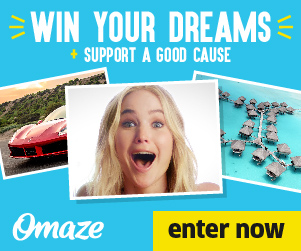 Charitable Cause
Each giveaway supports a good cause and if you take a look at the website you will see all of the causes that Omaze works with.
Women's Empowerment, Feeding America, Special Olympics USA, Giraffe Conservation Foundation, American Stoke Association, Food for Soul, and so many others.
Because charitable causes are "frowned upon" when it comes to marketing themselves in traditional ways in order to raise money, they usually have to spend money to raise money. It's a lot of work, and sometimes not as success as one might think, or hope.
With Omaze, everyone wins. You might not win a prize that you entered, but you have won because you are helping to support a good cause.
The Maldives
Being a beach girl, who just loves the sun and sand, The Maldives is my pick of vacations to enter to win.
What could be better than being able to escape to a 5-Star hotel in The Maldives for a luxurious vacation. And by entering I am supporting the Dana-Farber Cancer Institute in Boston, Massachusetts.
Just check out what you can win:
Win a 5-night/6-day trip to experience paradise at a Soneva luxury resort in The Maldives (flights included!)
Choose to stay in an overwater villa at Soneva Jani or enjoy the private island life in a villa at Soneva Fushi
Score $3,000 to spend on spa treatments, sunset dolphin tours, private beach dinners, catamaran rides and more
This particular giveaway ends January 27, 2021 and winner announced February 10, 2021. Hurry and get your entries in now, and maybe even grab some charitable entries for gifts for family members. What an awesome gift to give to someone.
Enter to Win More Fun Stuff
You love travel, and that is why you are here on That Traveling Chick, but Omaze offers more than just amazing travel you can enter to win. Check out some of these other giveaway, that I have entered.
Enter to Win an Adventure to Australia & Snorkel Around the Great Barrier Reef
2018 Dodge Challenger Demon and $20,000 Giveaway
Travel in an Airstream Atlas and $20,000
Win a Custom Jeep Wrangler Rubicon from DeBerti and $20,000
These are just a few of the amazing giveaways shared on Omaze. Go check them all out, enter them all, and feel good knowing you have supported a good cause.
Please follow and like us: